Scooter Lifts for Vans or SUVs: Different Styles Explored
When you need a scooter or wheelchair lift for your vehicle, the good news is that you have a variety of styles to choose from. The design of your mobility device, the make and model of your vehicle, and your personal preferences are equally important in determining which lift is right for you. The mobility experts at Louisiana Stairlifts will work carefully with you to determine which
scooter lift for vans
or cars is the best solution for your specific circumstances.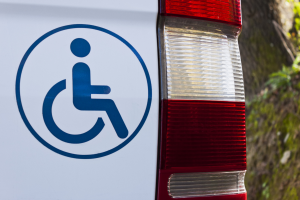 Before You Buy
Before you buy any mobility lift device, you need to be prepared to answer the following questions:
What type of mobility device do you own, including the make and model?
How much does it weigh? Will you be on the device when it is lifted?
What is the make and model of your vehicle?
Are there length limitations for your vehicle?
Will you be operating the lift yourself or will you have help?
Who else will you be transporting in your vehicle?
With this information in hand, it's time to consider your options.
Manual vs. Electric
Mobility lifts can be operated manually or electrically. Manual lifts use strictly mechanical force to lift the scooter from the ground. While these lifts don't need to be plugged into a power source to work, operating them does take considerable strength, which is a challenge for many users. Electric lifts rely on battery power from the car to do the lifting; putting the scooter in place takes no more strength than pushing a button, but users need to be aware of the potential for draining the car's battery.





Another important distinction between manual and electric lifts is that electric lifts often come with a swing away feature; the lift device can be moved out of the way to allow access to the rear of the vehicle. Manual lifts do no typically offer this feature.



Weight Capacity
Each mobility lift is built with a different weight capacity. Wheelchairs and scooters vary greatly in weight; make sure you know how much your device weighs and the weight capacity of the lift.
Interior or Exterior Storage
You can choose lifts that store your mobility device on the outside or on the inside of your vehicle. Each has advantages and disadvantages.
Interior:
Interior lifts for SUVs or vans can be hoist lifts or platform lifts. The one you choose is largely dictated by your vehicle and its configuration.
Pros: Scooters stored inside the vehicle are protected from the weather and other outdoor risks. Inside storage also prevents adding to the vehicle's length and can make parking and garage storage easier.
Cons: Inside storage takes up space inside the car and reduces the number of additional passengers that can be carried.
Exterior:
Exterior lifts are generally platform style lifts. Your vehicle needs to have a tongue capacity sufficient to handle the weight of the lift plus the weight of your mobility device.
Pros:
Outside carriers leave the interior vehicle space free for passengers of cargo. Exterior lifts are also generally less expensive than interior lifts.
Cons:
Exterior lifts add length to the vehicle which can make garage storage difficult. In addition, exterior lifts leave the device exposed to weather and offer less protection overall.


Freedom to Go Where You Want to Go
When a wheelchair or scooter becomes part of your life, it can often feel as if you've lost the freedom to go where you want to go. An automobile lift simplifies car travel and lets you get out and explore and enjoy time with friends and family. If you're in the market for vehicle lifts in Louisiana, contact K N Enterprise. Our team of mobility experts is available to answer your questions and help you and your scooter get on the road again.