Picking the Right Scooter Lift
Scooters and other mobility devices are a part of everyday life for millions of people across the country. These devices, coupled with cars, mean the difference between life at home and life out and about enjoying the world with friends and family. Scooter lifts for vans, SUVs, trucks, and cars make that independence possible. But scooter lifts can be pricey; finding the right one is a big decision. The following tips from K N Enterprise LLC will help you understand your choices and be confident about your final decision: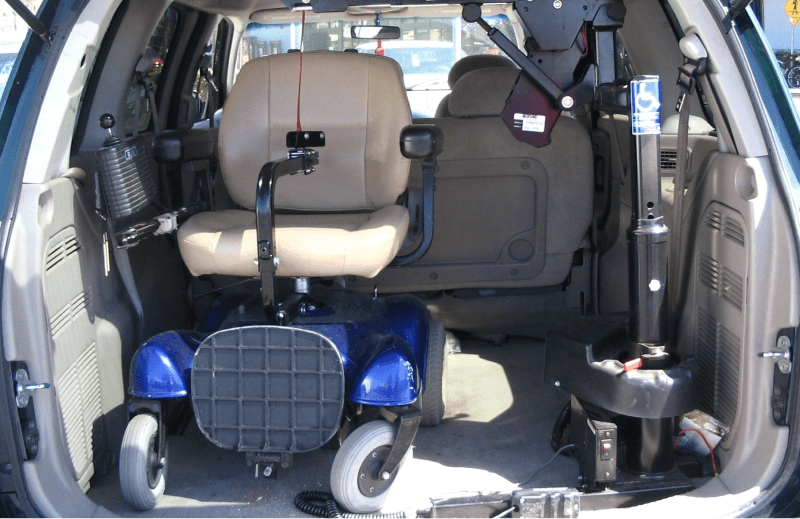 Discover the Different Type of Lifts
Today's scooter market includes a variety of different lifts. Before you decide which one is right for you, it's important to understand the differences between the three main choices.
Platform Lifts:
Platform lifts are the simplest and easiest solution; just drive your scooter onto the platform, press a button, and stow everything away. The main drawback of these lifts is that they take up significant space in the back of the van or SUV, reducing the number of passengers or amount of cargo you can transport. The advantage is that your scooter is stored safely inside, away from the weather and the road.
Crane Lifts:
A crane, or boom, lift raises your scooter and stores it inside vans, trucks, or SUVs. A special docking device is attached to your scooter to allow easy lifting and loading. This type of lift also stores your scooter safely inside your vehicle but takes up passenger and cargo space.
Outside Scooter Lifts:
Outside lifts attach to the exterior of your vehicle via the hitch. Securing your scooter to the lift is a breeze and operation can be automatic or manual depending on the model you select. Outside lifts offer two main advantages. First, these lifts do not occupy any cargo and passenger space inside and second, since cargo space is not needed, outside lifts can be used on a wider variety of cars, including sedans or other autos whose doors will not accommodate your large scooter. However, there are also significant disadvantages to consider. An exterior lift extends the length of the car and leaves your mobility device exposed to the elements.

Confirm Car Compatibility
As you might imagine, determining which lift will work with your car is a critical question. K N Enterprise has a scooter for almost every kind of car. Whatever you drive, we've got a solution for you.




What determines compatibility? For platform and crane lifts, size is the big question. You need to know the dimensions of your scooter and your car's dimensions to make sure the scooter and lift will fit in the cargo space and that they will fit through the door.




For outside lifts, you need a bit more information. You'll need to know the class and rating of your trailer hitch as well as its maximum tongue weight, which is a measure of the downward force the hitch can safely support.




For details about determining car compatibility, please call us at
(504) 715-6658
.
Arrange Professional Installation
Once you've chosen your lift, be sure to contact K N Enterprise for professional installation. Our installation experts will safely install your lift so you can get out on the road.



Call the Experts
The mobility experts at K N Enterprise are available to answer all your questions about car scooter lifts. We have the information you can trust about different makes and models and their unique advantages. We can help you determine which lifts are compatible with your vehicle and we have a team of specialists who are prepared to assist you as you navigate the insurance process.




At K N Enterprise LLC, we carry a full repertoire of mobility assisting devices. We're your number one source for home elevators, wheelchair lifts, ramps, and

stair lift chairs in Louisiana

. We have a highly trained staff of experienced technicians ready to help you find solutions tailored to your needs. Call us today and be more independent tomorrow!