Install Residential Wheelchair Lift for Better Accessibility
Life for folks in wheelchairs is hard. Make things just a little bit easier by installing a wheelchair lift in your home. These devices provide safe, smooth access to your home so you can make everyone feel more welcome and at ease.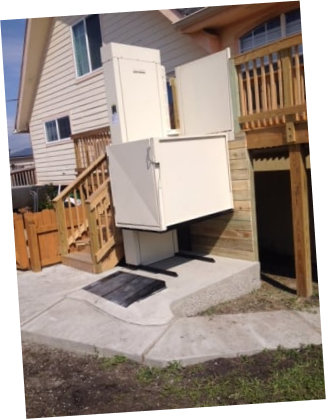 Plan Ahead
Wheelchair lift installation takes time. From the moment you make the first call to the final install can be anywhere from three to five weeks. While the need for a lift can be sudden – accident, injury, or illness—getting the lift needs to be slower and more carefully considered.

Planning for a lift requires you to do the following:
Decide on a location. The lift needs to be located in a space that is easy to access from the lower landing, and that is as close to the entrance as possible. The lift needs to be installed on a concrete pad, so choosing an existing poured concrete pad such as a garage floor or patio works well and can save money and time. The pad needs to be at least five feet square and four inches thick. The upper landing needs to be spacious enough to allow the user to move on and off the lift comfortably. It also needs to be strong enough to support the weight of the unit plus the user and the chair; the rated load is typically 1500 lbs.
Check power. Your lift needs to be plugged into a dedicated GCFI 110 VAC 15A outlet. The lift will come with six feet of cord standard. If you don't have a receptacle near your planned site, you'll need to either install an outlet nearby or plan to have the lift outfitted with a longer cord.
Examine the wall. The lift needs to travel along a reasonably smooth wall. You don't want your lift to catch on uneven surfaces or protrusions.
Read the instructions. Once you've chosen your lift, read the manual and installation guide carefully to make sure you've prepared adequately.
Get permits. You might need a permit for a lift installation and you might need the lift to be inspected once installed. Check your local building codes so you can comply.
If this seems a bit overwhelming, take a deep breath. The team at Louisiana Stairlifts is here to help with all of this and more.
Choose a Lift
You need to consider the following when selecting a wheelchair lift:
Travel height. The distance from the ground floor to the upper landing is the travel height. The loft you choose needs to have a maximum travel height that exceeds that distance.
Configuration. There are two possible configurations.
Straight access—Straight through access lifts allow the user to enter at the bottom and continue straight off once they reach the top.
Adjacent access – Adjacent access lifts are used in places where the user needs to turn right or left when exiting the lift at the top.
Options. A number of options are available to allow you to customize a lift to meet your needs.
Again, our customer service team will assist with all these design decisions.
Make Installation Easy
Get ready for installation day by doing the following: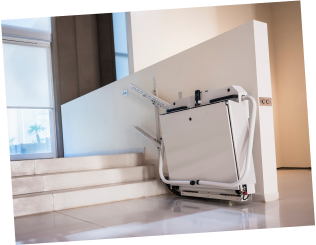 Prepare the site. This might be as simple as clearing an existing space of clutter. But it might also mean having a concrete pad poured or making other modifications to your home. These should all be done prior to installing the lift.
Use Louisiana Stairlifts for installation. Our skilled technicians have done hundreds of installations. Our teams are professional and courteous and have the experience needed to get the job done right the first time.
Trust Louisiana Stairlifts
We're in the business of mobility. Whether you're in the market for stairlifts, elevators, wheelchair lifts, or
wheelchair auto lifts in Louisiana
, we've got the products you need to keep moving safely and freely wherever life takes you. Call to talk to us today about a wheelchair lift for your home.