Best Wheelchair Mobility Devices for Your Home
If you or a loved one are struggling with a mobility challenge, one of the first questions you need to address in order to live at home is how to navigate the stairs. If you're dependent on a wheelchair, this problem is even more difficult to resolve. How can you move up and down the stairs in your home and take your wheelchair with you?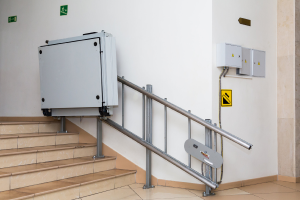 Louisiana Stairlifts has the answers you need to move freely around your home, even with a wheelchair. We carry a number of solutions designed to help wheelchair-bound individuals move independently between the levels of their homes, including the following:
Ramps
Ramps are perhaps the most basic mobility assist for wheelchair users. Ramps are used for small elevation changes such as entry stairs or thresholds.
Wheelchair Platform Lifts
A wheelchair platform lift, sometimes also called a vertical platform lift, is a device that safely carries wheelchairs and their users to different levels of their homes. Simply roll your chair onto the lift, close the gate, and press the button. You get a smooth, safe ride up or down. Platform lifts are like open elevators without a cab or shaft; they're basically a motor and a platform.
Wheelchair lift installations
are most often used to help wheelchair users access outdoor raised porches or decks and to lift wheelchairs to main levels from lower-level garages.
Incline Platform Lifts
An incline platform lift is attached to your staircase to help wheelchair users move up and down the stairs. Users wheel their device onto a platform and then operate the lift via a remote. The platform is attached it a track or rail system installed on the treads of the stairs. It's a similar concept to a chair lift, but users of an incline platform lift don't have to leave their wheelchairs to use the lift and are able to take their chairs with them as they move between floors.
Home Elevators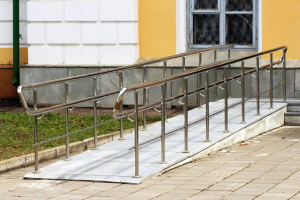 Another great option for wheelchair users is a home elevator. Before you dismiss this option because you think it's too expensive or your home isn't big enough, think again. Advancements in elevator technologies have made these devices a practical, affordable solution for more and more homeowners than ever before. Louisiana Stairlifts offers a number of models to choose from, and our experts can help fit one to your home and your budget.
Move Freely Through Your Whole Home
It's time to get back to enjoying your whole home again. A wheelchair doesn't need to keep you confined on the ground level. With the help of
wheelchair lifts for home and Louisiana
Stairlifts, you can safely access all your home has to offer, upstairs and down. Live independently at home with the help of mobility solutions from Louisiana Stairlifts. We are committed to helping each of our clients live happier, healthier, safer lives at home. Call to talk to one of our specialists today to discover how we can do that for you.