Mobility Device Users: Staying Safe This Winter
Winter always produces new travel hazards for everyone, but it can be especially difficult for those who rely on mobility devices to get around. While Louisiana may not get snowfall in the winter, temperatures due drop low enough to cause some surfaces to freeze over. This can present a slipping hazard to everyone, as well as making it impossible for those who use mobility devices to get around. This blog will give you a few extra tips on staying safe this winter if you use a walker, wheelchair, or mobility scooter.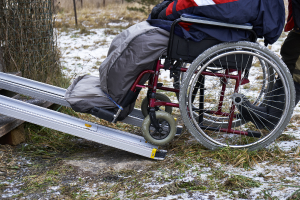 Consider an Exterior Lift
If you rely on a mobility device, you probably have already installed a wheelchair ramp outside your home. However, these can become icy when an unexpected cold snap hits, and the last thing you want is to have your wheelchair sliding down an icy ramp without being in control of it. Installing a
vertical platform lift in Louisiana
could provide a safer alternative. Because this device lifts your wheelchair straight up to your porch and straight down to the ground, you don't have to worry about any angled, icy surfaces.
Get Some Extra Table Salt

You probably know that salt is a common and reliable way to melt and remove ice from surfaces. However, the rock salt commonly used to remove ice from roadways and sidewalks can cause a metal wheelchair ramp to rust, and it can be poisonous to any service animals you might have. Instead, use table salt to melt any ice on your exterior ramps and walkways. It's an effective tool, won't damage your surfaces, and since those hard freezes aren't common around here, they're a cost-effective solution as well. After all, who wants to buy a large bag of rock salt that you'll probably only need to use a couple of times each winter?
Bring Your Device Indoors
If you typically store your mobility device in the garage or in a shed, find a place to keep it indoors. Cold weather can negatively impact your device and its battery if it has one. Make sure to bring it indoors before the temperatures drop, so you're not caught off-guard by a sudden cold snap.
Have Sidewalks Cleared
While you may be able to scatter some salt yourself, properly clearing your sidewalks and other surfaces can be more difficult. Make sure you have someone available who is willing to help you clear your sidewalks if needed. If you don't, and the weather turns bad, you may find yourself stuck inside your house until it warms up enough to melt the ice on your walkways. This is especially important if your walkways tend to be shaded for most of the day, as it will take much longer for that ice to melt.
Make Sure Your Vehicle Is Ready
Finally, make sure your car is ready for the colder weather too. Again, snowy and icy roads are rarely a problem around here. However, it's a good idea to winterize your car anyways and to take some precautionary steps like packing some extra layers into your car. Tossing in a backpack that has some extra socks, gloves, and a jacket can be a lifesaver if you find yourself outside in colder-than-expected weather. Additionally, take the time to ensure that your vehicle lift is fully functional and adequately lubricated before the temperatures drop.
If you need platform lifts or
vehicle lifts in Louisiana
, contact K N Enterprise, LLC, to learn more about our products and services. We offer a variety of accessibility solutions for those who rely on wheelchairs and other mobility devices daily. Give us a call today!