Guide to Helping People with Mobility Challenges
If you're the primary caregiver for someone with mobility issues, you know how difficult providing that care can be on a daily basis. That job has been made significantly more difficult during the COVID-19 pandemic as people are trying to keep their distance from high-risk individuals. Many of those with limited mobility are elderly or have an underlying health issue that puts them at higher risk of complications from COVID-19, so you might be wondering how you can continue to provide essential care without compromising their health. This blog will give you a few tips.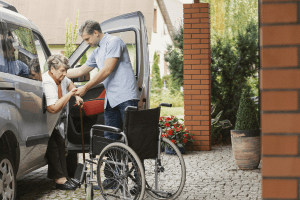 Look for Accessibility Improvements
Some care that you provide cannot be replaced with devices or installations that improve accessibility and mobility—but some can. If you have to help your loved one up and down stairs or assist them with bathing, it's extremely difficult to keep your distance during these tasks. However, these tasks could be eliminated with certain upgrades like
wheelchair ramp rentals in Baton Rouge, LA
, and walk-in tubs.
These additions to their home can provide them with greater independence now and in the future. Not only does this make social distancing easier, but it can provide them with a greater sense of self-worth, as they no longer have to rely on someone else for many daily tasks.
Educate Yourself on COVID-19
It's also extremely important that you are highly educated on COVID-19. You should be extremely familiar with prevention tips and guidelines, as well as early symptoms and when you should seek medical care. You cannot be too careful when it comes to ensuring a high-risk individual receives proper care to avoid serious health complications. So, make sure you know the earliest signs of an infection and seek early intervention.
Take Proper Precautions
Educating yourself about proper precautions doesn't do much good if you don't follow them. While it's not easy to wear a mask and keep your distance from someone you're caring for, it's important that you take every step you can to protect them from any viruses you might be carrying. Take off your shoes at the door, wash your hands immediately after entering, enter only when wearing a mask, and perform as many tasks as you can without getting within 6 feet of them.
Speak to Home Healthcare Providers
Professional home healthcare providers are skilled and experienced at protecting the health of those they care for. If you're at all concerned about your ability to properly sanitize, prevent viral spread, or have quality PPE, it may be worth hiring a professional caregiver for your loved one—even if it's just on a temporary basis.
Be sure to do thorough research into any care provider or company you're considering, especially in regards to what measures they're currently taking to protect their clients. Any care provider you look at should address the current pandemic in extreme detail so that you can feel confident about how they're going to handle this situation.
Even if you decide not to hire a care provider, simply reading up on the measures that professional caregivers are taking will help you better understand what you should be doing to protect your loved one. Do your best to follow professional-level guidelines to better protect the person you're caring for.
If you're looking to improve the accessibility of your loved one's home, K N Enterprises can help. We have wheelchair ramp rentals if you're looking for a temporary way to limit direct contact. Or, if you're looking for a more permanent accessibility solution, we have wheelchair ramps for sale in Baton Rouge, LA, as well. Contact us to learn more..