Creating an Accessible Kitchen Design for Wheelchairs

Home. For most of us, the word brings feelings of comfort, serenity, and peace. But for individuals living with mobility challenges, living at home can be frustrating and sometimes not even a viable option. But home is important. If you're facing a future in a wheelchair, making home accessible is one of the most important things you can do to improve your quality of life.
The kitchen is a particularly challenging space for folks in wheelchairs. The following are tips for designing a wheelchair-friendly kitchen: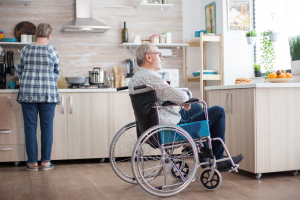 Clear the Floor
The wheelchair needs room to maneuver. Most obviously, this means that the spaces between cabinets, appliances, and islands need to be sufficient to allow the wheelchair to pass through and turn around. The standard clearance is 60" of space. If necessary, install a
wheelchair ramp in Baton Rouge, LA
, to facilitate passing over thresholds or up steps. Clearing the floor also means that wheelchair users need to have space around front-opening appliances and cabinets so they can be freely accessed from the sides.
Lower the Counters
Countertops need to be no higher than 34" in order to be ADA compliant and the sink needs to be placed within reach of wheelchair users. In addition, in order for the sink to be truly accessible, it will need a clear, open "knee" space below. Shallow sinks with drains in the back accommodate wheelchairs well. Incorporating knee space throughout the kitchen, especially near the refrigerator and stove, ensures that the resident can comfortably and easily work at the counters. Where this isn't possible, shelves that pull out from counters create an accessible workspace.

Adjust Storage Spaces
Wheelchair users can comfortably reach storage shelves anywhere from 15" to 48", so planning kitchen storage in the 20" to 44" puts things within reach. Open shelving, rolling shelving, racks, and drawers with easy-to-operate hardware are common features in accessible kitchens. Whatever you choose, often-used items should be placed in the most easily reached spaces.
Upper cabinets are very nearly useless for wheelchair-bound individuals. In some cases, however, you might be able to incorporate electric cabinets that raise and lower at the push of a button.
Use Leverage
Lever-operated hardware is the easiest to operate. It requires little strength or maneuverability to operate. A single lever faucet is simply to use, especially if placed to the side of the sink for easy reach. Touch faucets are also a good option. Cabinet knobs can be difficult as they require specific mobility in the hands; opt instead for looped handles that need only a minimal pinch to use.
Think About Appliances
Raising the dishwasher up off the floor a few inches makes it much easier for wheelchair users to access and choosing a fridge with a bottom drawer freezer gives easy access to the freezer.
Widen the Doorways
Wheelchairs have to get in and out of the kitchen. Wide doorways with swing clear hinges on the doors make passing in and out of the space a breeze.
Accessibility for All
Accessible kitchens aren't about complying with ADA regulations; they're about helping everyone feel comfortable at home. While the guidelines are a good place to start, true accessibility isn't a one-size-fits-all situation. Be patient with the process and implement solutions that fit.
For more ideas about how to make your home more accessible for wheelchair users, contact the experts at Louisiana Stairlifts. We carry a full range of mobility assist products, including auto lifts, elevators, and
portable wheelchair ramps in Baton Rouge, LA
. We're here to help you and your loved ones feel more comfortable at home.